.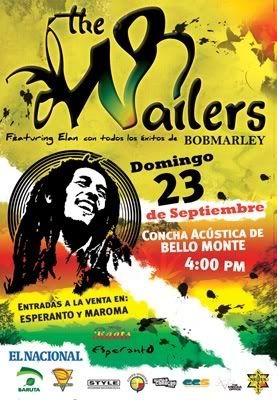 El próximo 23 de septiembre la ciudad de Caracas recibe a The Wailers, la banda del artista más importante del mal llamado tercer mundo, Bob Marley, quienes se presentarán en la Concha Acústica de Bello Monte. Las entradas ya están a la venta en su primera etapa con un monto de 75.000 bolívares y se pueden conseguir en todas las tiendas Esperanto.
Un show en el que los éxitos de todos los tiempos del rey del reggae serán interpretados por el grupo The Wailers. Canciones como: Buffalo Soldier, Lively Up Yourself, Is this Love, One Love, I Shot the Sheriff, Satisfy My Soul, Get Up Stand Up, Jamming, Exodus, War, Redemption Song, Stir it Up, No Woman No Cry, Could You be Loved, entre muchas otras, serán los temas que los asistentes a este concierto podrán escuchar.
En esta oportunidad The Wailers estará incluyendo en su presentación una sección de trompetas y trombones que fue grabada en las canciones originales de Bob Marley pero que raramente se presentaron en concierto. De igual manera el evento contará con la presencia de Negus Nagast, conocida banda venezolana de reggae que estará encargada de abrir el show.